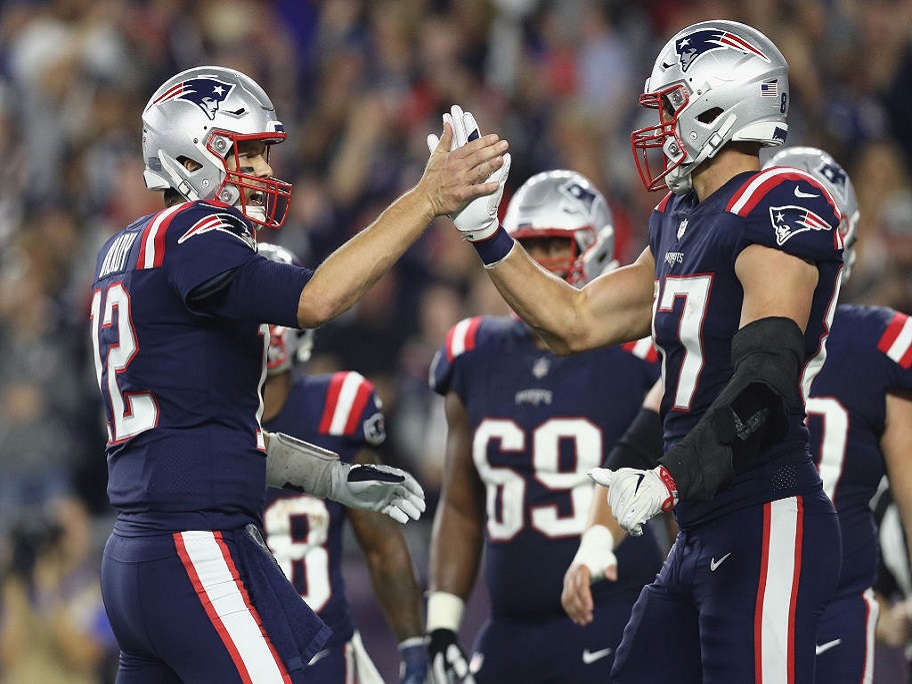 January 22, 2019
NFL News
Super Bowl 53 MVP Betting List Topped by Brady
Tom Brady was the Super Bowl MVP 17 years ago when the Patriots beat the Rams and oddsmakers believe Super Bowl 53 MVP betting will go the same way this year.
Brady is a huge +125 favorite on Super Bowl 53 MVP betting menu set this week over at BetOnline.ag. He has won four MVP awards already and would extend his GOAT status with another.
The next betting choice is LA Rams QB Jared Goff, at +225. Not surprising that QBs top the board because QBs have won 9 of the past 12 MVP awards and historically dominate the voting.
[ Game Preview | Super Bowl Props List | Latest Betting Lines ] 
Running backs occupy the next three positions with Rams RBs Todd Gurley and C.J. Anderson at 16/1 and Pats rookie stud Sony Michel at 14/1 (all data as of Jan. 22 at BetOnline).
Looking for defensive players? There aren't many to bet on, but Aaron Donald is 20/1 as the highest rated defensive player by a mile.
See the current Super Bowl 53 MVP betting odds menu below.
| | |
| --- | --- |
| Player | MVP Odds |
| Tom Brady (NE) | 125 |
| Jared Goff (LAR) | 225 |
| Sony Michel (NE) | 1400 |
| Todd Gurley (LAR) | 1600 |
| C.J. Anderson (LAR) | 1600 |
| Aaron Donald (LAR) | 2000 |
| Julian Edelman (NE) | 2500 |
| James White (NE) | 2500 |
| Brandin Cooks (LAR) | 3300 |
| Robert Woods (LAR) | 3300 |
| Rex Burkhead (NE) | 5000 |
| Rob Gronkowski (NE) | 4000 |
| Stephen Gostkowski (NE) | 5000 |
| Greg Zuerlein (LAR) | 6600 |
| Dante Fowler Jr (LAR) | 6600 |
| Josh Reynolds (LAR) | 6600 |
| Chris Hogan (NE) | 8000 |
| Aqib Talib (LAR) | 8000 |
| Cordarrelle Patterson (NE) | 10000 |
| Cory Littleton (LAR) | 10000 |
| Trey Flowers (NE) | 10000 |
| Ndamukong Suh (LAR) | 10000 |
| Marcus Peters (LAR) | 10000 |
| John Johnson (LAR) | 10000 |
| Kyle Van Noy (NE) | 10000 |
| Donta Hightower (NE) | 15000 |
| Stephon Gilmore (NE) | 15000 |
| Gerald Everett (LAR) | 15000 |
| Tyler Higbee (LAR) | 15000 |
| Michael Brockers (LAR) | 15000 |
| Phillip Dorsett (NE) | 25000 |
| Dwayne Allen (NE) | 25000 |
| Devin McCourty (NE) | 25000 |
| Elandon Roberts (NE) | 25000 |
| Lamarcus Joyner (LAR) | 25000 |
| Mark Barron (LAR) | 25000 |
| Patrick Chung (NE) | 25000 |
| John Kelly (LAR) | 50000 |
| KhaDarel Hodge (LAR) | 50000 |
| James Develin (NE) | 50000 |
| Matthew Slater (NE) | 50000 |