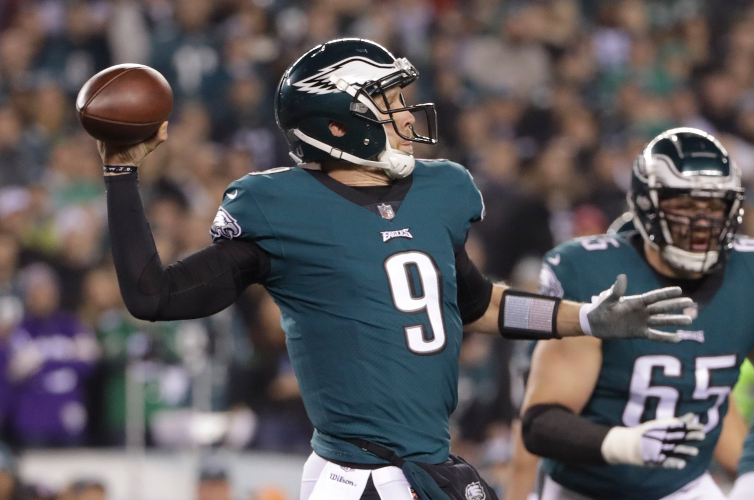 January 8, 2019
NFL News
NFL Betting Trends: Divisional Playoff Round
Not everyone believes in NFL betting trends, but some interesting ones held up on Wild Card weekend and a few remain in play in the Divisional Playoff round as well.
The Philadelphia Eagles entered last weekend on an 8-1 ATS run as a playoff dog and 4-0 SU in that role. It took a bit of double-doink luck, but they are now 9-1 ATS and 5-0 SU as they head for New Orleans Sunday.
The LA Chargers were also riding a 4-0 SU streak as a road dog and now they are 5-0 after beating the Ravens in Baltimore. And looky, they are 4-point road dogs at New England Sunday.
[ Like any NFL betting trends and need a spot to bet them? Check out the review section here ]
Colts vs Chiefs betting trends
This is a playoff repeat of crazy 2013 Wild Card game where Colts rallied from 28 down to win 45-44. The Chiefs start fast, don't think they won't be wondering about their early lead.
And they will tell you this NFL betting trend doesn't matter either, but bettor beware. The Chiefs have been home playoff chalk 6 times since 1980, and never covered the spread. Not only that, they lost the past 4 SU. [ Game Preview ]
Also of note:
Road team 4-1 SU past 5 meetings, with the lone loss that crazy playoff game
Colts 7-1 SU & ATS at KC since 1996
UNDER is 6-1 past 7 times Colts as road playoff dog
Current Line: KC -5 at Bovada
Cowboys vs Rams betting trends
The Cowboys have lost six in a row as playoff road dog, since last winning in this situation Jan 1993 at San Francisco. So this doesn't bode well against a rested, hungry Rams team that is 4/1 odds to win the Super Bowl.
However, check this betting trend out. Since 2010, the Cowboys have won outright the past four times as road dogs of 7 or more! They averaged more than 30 PPG in those games and all four played OVER the total. [ Game Preview ]
Also of note:
Cowboys won 3 of past 4 SU as road dogs this year
Rams 0-5 SU & ATS at home to NFC East teams since 2012
Current Line: Rams -7 at BetOnline
Chargers vs Patriots betting trends
Here's the fact for all your Charger lovers out there (I'm one of them): the Chargers never win in New England. Since 1980, they are 1-8 SU at Foxboro and overall just 1-7 SU vs the Pats since 2005.
Patriot lovers will love these betting trends. The Pats are 15-0 SU, 12-3 ATS in their past 15 as home chalk. They carry that dominance into the playoffs, where they have won 8 straight as playoff home chalk, going 6-2 ATS. [ Game Preview ]
They don't love this one: the Chargers have won outright past 5 times as road dogs, including last week at Baltimore.
Also of note:
Both prior playoff meetings played UNDER total
Current Line: Patriots -4 at Intertops
Eagles vs Saints betting trends
Well, the Eagles did it again, winning outright as a playoff dog. That makes it 9-1 ATS.
This is another rematch of a 2018 game, where the Saints thrashed the Eagles 48-7. The Eagles have a new-old QB and a defense that has gotten healthier. The line is probably way too high here at -8, which will tempt many Philly bettors (like me). [ Game Preview ]
This may be a fluke and not a trend, but its worth mentioning and worth being careful about. The Saints have been home playoff chalk 8 times since 1980, and every game went OVER. Interesting too that two of those OVERs were against these Eagles (1993 and 2007).
Also of note:
Saints are 6-2 SU past 8 vs Eagles
Saints won 7 straight at home vs NFC East teams, 5-1-1 ATS
Current Line: Saints -8 at Bovada