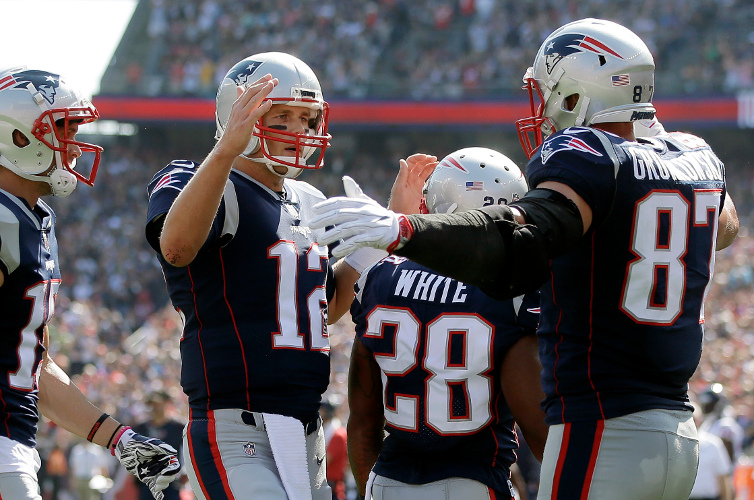 February 1, 2018
NFL News
Super Bowl Betting Props: Touchdown and Field Goal Odds for Sunday
Correctly picking who will score the first touchdown in Super Bowl 52 could give your betting bankroll a nice boost this weekend.
There are several touchdown and field goal props available at the sportsbooks for Sunday. The most popular one will likely be "Who will score the first touchdown in Super Bowl 52," because the payouts are strong even if the favorite finds the end zone.
The favorite on the prop is New England Patriots tight end Rob Gronkowski at +750. He's followed by three more Patriots with Brandin Cooks at +900, Danny Amendola at +1000 and Dion Lewis at +1000. The first Philadelphia Eagles players to appear on the odds list are Zach Ertz and LeGarrette Blount, both at +1000.
Last year in Super Bowl 51 the first touchdown was scored by Atlanta Falcons running back Devonta Freeman. In their seven Super Bowl appearances during the Tom Brady era the Patriots have scored the first touchdown four times. When the Eagles and Patriots squared off in Super Bowl 39 the Eagles found the end zone first with a touchdown pass to tight end L.J. Smith.
If you're looking for some underdogs to take a flier on, New England's James White and Philadelphia's Torrey Smith might be worth a look. White, listed at +1400, scored a pair of touchdowns in last year's Super Bowl and has a knack for delivering in the playoffs. Smith had a solid outing in the NFC Championship Game with five catches and a touchdown and is great value at +2000.
There are also prop odds available for who will score the first touchdown for each team. For the Patriots the favorites are Gronkowski and Lewis at +400, followed by Cooks at +475 and Rex Burkhead at +650. If you're looking for White you'll find him at +700
For the Eagles' first touchdown prop the favorite is Ertz at +400, followed by Alshon Jeffery and Blount both at +500 and Jay Ajayi at +600. Torrey Smith comes in at +650.
For field goal odds there are a few over/under props on how many successful field goals will be kicked and an over/under total for longest field goal.
For the number of successful field goals there are three different props to choose from with three different totals. There is 2.5 with the over favored at -190, 3.5 with both the over and under at -115, and 4.5 with the under the favorite at -230. In last year's Super Bowl there were only two successful field goals, and in the last five Super Bowls there have been two field goals or less three times.
For longest field goal the oddsmakers have set the total at 47.5 yards with the over favored at -150. This season Eagles kicker Jake Elliott connected on eight field goals over 47.5 yards, while New England's Stephen Gostkowski had six field goals over 47.5 yards.