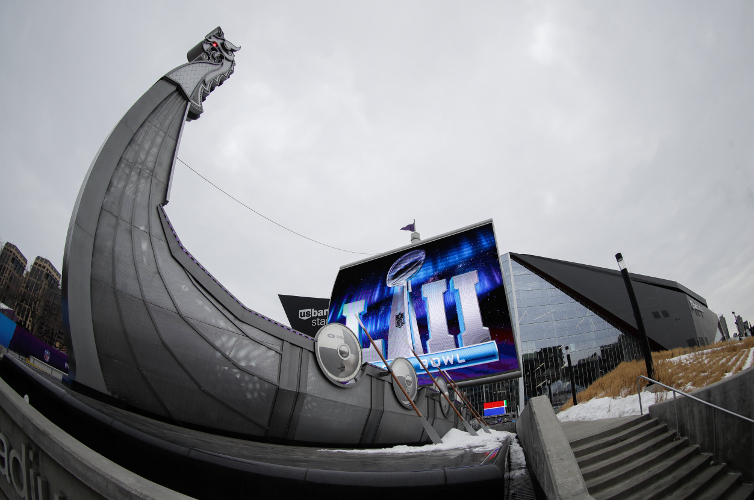 January 31, 2018
NFL News
Super Bowl Betting Props: Quarterbacks, Running Backs, Receivers on the Board
New England Patriots quarterback Tom Brady won a record fourth Super Bowl MVP Award in last year's comeback win over the Atlanta Falcons in Houston. Brady is favored to win yet another this Sunday in Super Bowl LII in Minneapolis against the Philadelphia Eagles.
The likely NFL regular season MVP, Brady is given totals of 285.5 passing yards for the game as well as 38.5 attempts, 26.5 completions and two touchdown passes. Against the Falcons last February, Brady set Super Bowl records with 43 completions, 62 attempts and 466 yards. This regular season, he led the NFL with 4,577 yards passing, which is an average of 286 per game – hence you can see why the sportsbooks set that 285.5 number. The over is a slight -130 favorite.
Brady threw for at least 290 yards and two TDs in both AFC playoff games. He goes against an Eagles defense that ranked fourth in yards allowed in the regular season overall and No. 17 against the pass, surrendering 227.3 yards per game. Philadelphia surrendered 24 touchdown passes and picked off 19 passes, the latter of which were the fourth-most in the NFL. Both Matt Ryan and Case Keenum had mediocre games against that defense in these playoffs.
Brady's counterpart is Nick Foles, who only took over as the starting quarterback in Week 14 when star Carson Wentz went down with a season-ending torn ACL. Foles is given totals of 242.5 yards passing, 33.5 attempts, 22.5 completions and 1.5 TD passes.
Foles was very good in one regular-season start but struggled in his other two. In two games in these playoffs, he's completing 77.8 percent of his 63 throws for 598 yards, three touchdowns and no interceptions. The New England defense was third-from-last in the regular season in allowing 251 passing yards per game. It surrendered 24 touchdown passes and intercepted 12. You can get Foles at +25.5 passing yards against Brady's total.
On the receiving props, Patriots tight end Rob Gronkowski is the +300 favorite to lead all players in receiving yards. He left the AFC title game with a concussion but is expected to play Sunday. Gronkowski has played in just two Super Bowls partly due to injury and has combined for eight catches, 94 yards and a touchdown. He led the team in catches (69), yards (1,084) and touchdown receptions (8) during the season despite missing two games.
Gronk is given an over/under of 5 receptions and 75.5 yards in the game. Teammate Brandin Cooks and Eagles tight end Zach Ertz are both +400 to lead all players in receiving yards.
On the most rushing yards prop, the Eagles' Jay Ajayi is a -140 favorite. He was a midseason acquisition from the Miami Dolphins and has rushed for 127 yards on 33 carries this postseason. Teammate LeGarrette Blount, a former Patriot, is +500. Many experts believe the Eagles will go run-heavy Sunday to help eat clock and keep Brady off the field. New England's Dion Lewis is +150 to lead in rushing. Lewis has totaled 96 yards rushing in the two playoff games but has caught 16 passes.
You can even bet which quarterback rushes for more yards: Brady (-115) or Foles (-115). Brady has never been the most mobile guy and especially isn't now at age 40. His season high in rushing yards? Six. Foles is also exclusively a pocket passer. Those two might tie with zero yards Sunday.