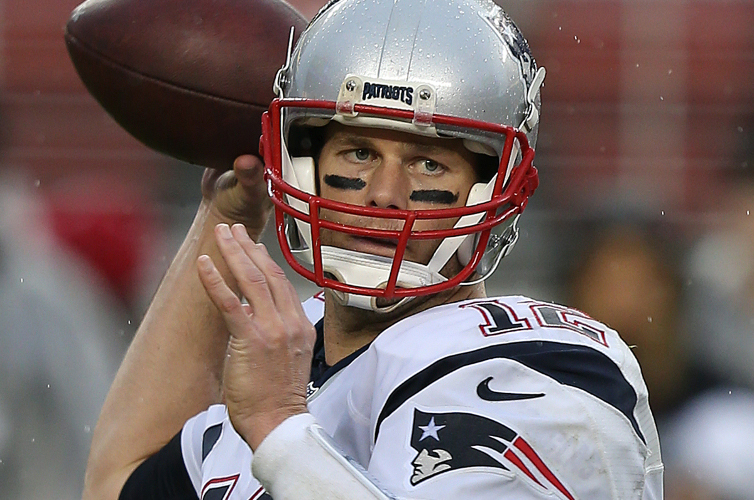 January 25, 2018
NFL News
Super Bowl Betting Props: Brady Leads the Super Bowl MVP Odds
The wide assortment of Super Bowl 52 props and futures are starting to show up at the sportsbooks, including the always-popular Super Bowl MVP futures.
You can probably guess who the Super Bowl 52 MVP favorite is – New England Patriots quarterback Tom Brady at -125. Brady already has four Super Bowl MVP trophies, including last year's award. Brady has won MVP honors in all but one of the Patriots' five Super Bowl victories. The other went to wide receiver Deion Branch in Super Bowl 39.
Following Brady on the Super Bowl MVP odds is Philadelphia Eagles quarterback Nick Foles at +375. Again, not a surprise as the MVP award has gone to a quarterback more times than every other position combined. That would be 28 times to be exact, and six of the last eight Super Bowls.
After the two quarterbacks the odds rise substantially with Rob Gronkowski next on the list at +850 and Dion Lewis, Danny Amendola, Jay Ajayi and Zach Ertz all at +1800. Gronkowski is an interesting pick despite the fact he's currently recovering from a concussion, as no tight end has ever won the Super Bowl MVP.
If Lewis or Ajayi were to win they would be the seventh running back to win the award and first since Terrell Davis won for the Denver Broncos in Super Bowl 32. Other running backs on the Super Bowl MVP odds include James White at +4000, LeGarrette Blount at +4000, Rex Burkhead at +5000 and Corey Clement at +10,000.
Amendola could be an interesting pick as he and Brady hooked up for a pair of touchdowns in last week's AFC Championship Game. Odds on other wide receivers include New England's Brandin Cooks at +2200 and Chris Hogan at +5000, and Philadelphia's Alshon Jeffery at +2000 and Nelson Agholor at +5000. Only six wide receivers have won the Super Bowl MVP with the last being the Pittsburgh Steelers' Santonio Holmes in Super Bowl 43.
The most interesting and potentially profitable choices are the defenders. A defensive player has only won the Super Bowl MVP nine times, but two of those winners have been in the last four years. They would be Denver Broncos linebacker Von Miller in Super Bowl 50 and Seattle Seahawks linebacker Malcolm Smith in Super Bowl 48.
A few memorable defensive players who came out of nowhere to win Super Bowl MVP include Tampa Bay Buccaneers safety Dexter Jackson in Super Bowl 37 and Dallas Cowboys cornerback Larry Brown in Super Bowl 30. A MVP futures bet on either of them likely would have paid plenty.
Who has the chance of being this year's Von Miller or Dexter Jackson? On the Super Bowl MVP futures the defensive player getting the best odds is Philadelphia linebacker Fletcher Cox at +4000. The New England secondary is represented by safeties Devin McCourty and Patrick Chung and cornerback Malcolm Butler all at +10,000, while a late-season addition, linebacker James Harrison, is also listed at +10,000.