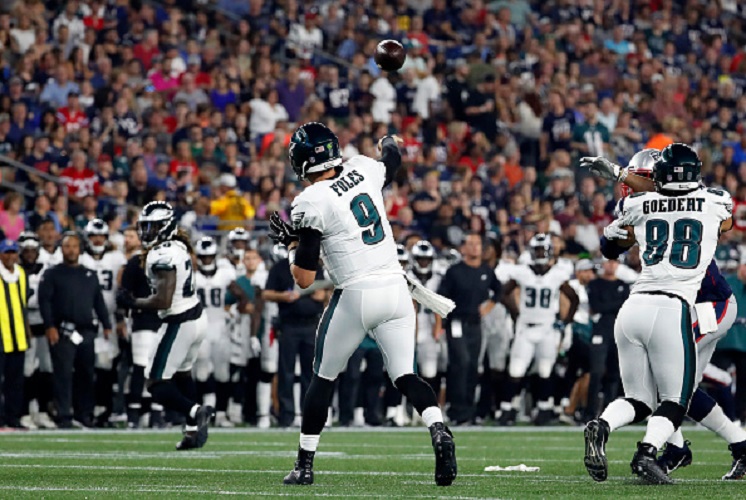 September 5, 2018
NFL News
NFL Week 1 Betting Preview: Odds, Trends, and Top Matchups Analysis
It is time for your NFL Week 1 betting preview, since the NFL returns Thursday night. The Philadelphia Eagles begin their Super Bowl defense at home against the Atlanta Falcons. Despite missing starting quarterback Carson Wentz to start the season the Eagles are a 3-point home favorite in their opener on the Week 1 odds with Nick Foles set to start.
Philadelphia was 9-1 straight up and 7-3 against the spread at home last season. The Falcons will look to improve on last year's road record of 6-4 SU and 3-7 ATS. The Eagles and Falcons met up in the postseason last year. Philadelphia came out on top by a score of 15-10 as a 2.5-point home underdog.
Looking ahead to Sunday the new-look Cleveland Browns begin the season at home against their AFC North rivals, the Pittsburgh Steelers. Cleveland is a 6-point home underdog as they look to snap a 17-game losing streak, during which they are 4-12-1 ATS. As a home underdog, Cleveland has lost seven straight at 2-5 ATS. Pittsburgh is a lame 1-6 ATS in their last seven. But against Cleveland, they're 14-2 SU and 8-7-1 ATS in their last 16.
NFL Week 1 Betting Preview: Vikings Betting Favorites Hosting the Niners
In Minnesota on Sunday, the Vikings debut new quarterback Kirk Cousins against the San Francisco 49ers as a 6-point favorite. Minnesota also starts the season as the favorite in the NFC North odds. The Vikings have won six in a row at home at 4-2 ATS, and in their last nine home games against the 49ers they're 8-1 ATS. San Francisco finished last season on a five-game winning streak SU while going 4-1 ATS. They're also 6-1 SU and ATS in their last seven games in Week 1.
Two prime divisional rivalries kick off Week 1 when the Kansas City Chiefs visit the Los Angeles Chargers and the Chicago Bears face the Green Bay Packers.
The Chargers are a 3-point home favorite versus the Chiefs and they've won five straight at home at 4-1 ATS. Kansas City had a tough time on the road last season, going 4-4 SU and ATS. The Chiefs have dominated this matchup lately, having won eight straight versus the Chargers, while going 6-2 ATS.
Green Bay is a 7.5-point home favorite versus the Bears. The Packers are just 1-4 SU and ATS in their last five at home, but when listed as a home favorite they've won seven straight SU at 6-1 ATS. The Bears are horrible on the road with a 2-14 record SU and 6-10 mark ATS in their last 16. In their last nine versus Chicago, the Packers are 8-1 SU and 7-2 ATS.
NFL Week 1 Betting Preview: Monday Night Football Doubleheader
Week 1 includes the usual Monday night doubleheader and this year's matchups are the New York Jets at the Detroit Lions, and the Los Angeles Rams at the Oakland Raiders.
The Lions are 7-point favorites and in their last six games on Monday night, they're 5-1 ATS. The Jets head into this one having lost five straight on the road with a 1-3-1 ATS record.
The Rams are a 5-point road favorite, and last season went 7-1 SU and 5-3 ATS away from home. As a road favorite, they've won five straight at 3-2 ATS. The Raiders have lost five straight at 1-2-1 ATS, and as a home underdog they're 3-6 SU and 3-5-1 ATS in their last nine.