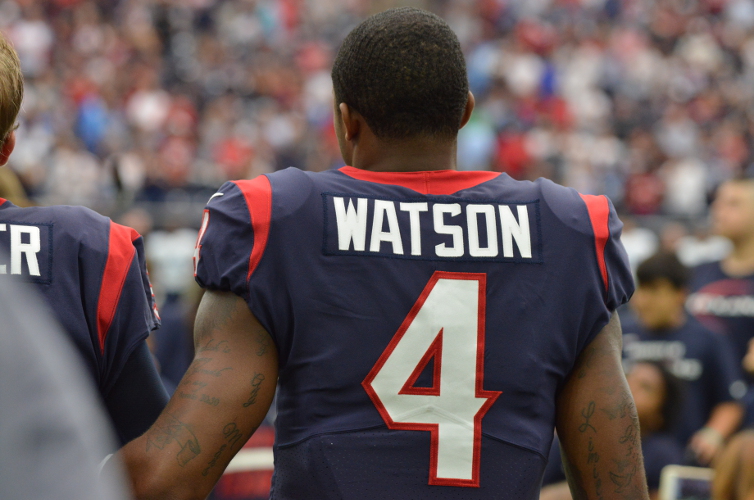 October 5, 2017
NFL News
NFL Betting Props: NFL Offensive Rookie of the Year Odds
Only three players remain in the running for the NFL Offensive Rookie of the Year Award, at least according to the oddsmakers.
The latest offering of the NFL Offensive Rookie of the Year odds has only three names – DeShaun Watson, Kareem Hunt and Leonard Fournette. Of course, it didn't start that way when the new NFL season kicked off, but injuries to the likes of Dalvin Cook and Corey Davis, and inconsistent performances from Tarik Cohen and Joe Mixon, caused the oddsmakers to whittle the selection down to three names.
For the first part of the season Hunt had been the favorite. Putting up 246 yards of offense and three touchdowns in your NFL debut against the reigning Super Bowl champs will do that. The odds got a shakeup this week, and Hunt has been replaced on top by Watson.
Watson is the new favorite at -150, followed by Hunt at +110 and Fournette at +1500. Watson began the season back at +1000 on the award futures, partly because he wasn't the starting quarterback for the Houston Texans. Tom Savage only lasted half a game before Watson took over.
Watson cemented himself as a contender last week with a monster performance against the Tennessee Titans as he passed for 283 yards with four touchdown passes and another TD on the ground. Watson has progressively gotten better each week and if he can keep leading Houston to wins he could have the award in the bag.
It would be foolish to count out Hunt just yet. He currently leads the league in rushing with 502 yards in four games. That's over 100 yards more than second-place Todd Gurley, who has 262 yards. If Hunt can keep it up and lead the league in rushing as a rookie he should get plenty of consideration for the award.
What about Fournette? After the draft last year he was the favorite on the futures, but heading into Week 1 he dropped to third on the list. Currently at +1500 he looks like a tempting option for bettors looking for a nice payday if he can overtake Watson and Hunt the rest of the season.
Fournette's no slouch at seventh in the league in rushing, but he hasn't hit the 100-yard rushing mark since Week 1. He'll need to get his numbers up if he's going to chase down Hunt and really put himself in the Offensive Rookie of the Year conversation.