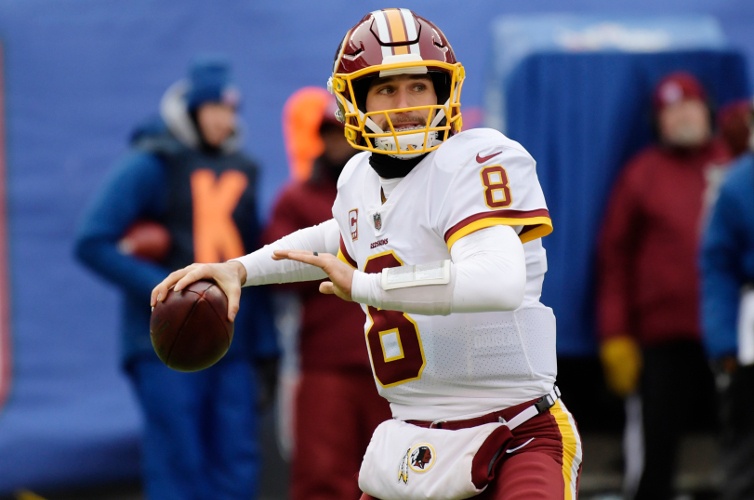 March 8, 2018
NFL News
NFL Betting Props: Kirk Cousins Odds for 2018 Season
The saying goes "if you have two quarterbacks, you don't have one." Well, in the blink of an eye, the Minnesota Vikings upped that ante as they went from boasting three starting signal callers to none. With Case Keenum, Sam Bradford and Teddy Bridgewater unrestricted free agents, the Vikings are the heavy favorites, at -230 odds, to land Kirk Cousins.
Minnesota's highest-paid player heading into the 2018 season is Xavier Rhodes at $13.4 million. So they have plenty of cap space – in the neighborhood of $57 million – to work with and that's ideal because the former Redskins starting quarterback possesses leverage to demand the most lucrative NFL contract of all time, which is projected to pay him an average of nearly $30 million per season.
It's not a bad deal for a seven-year vet who is 26-30-1 overall and 0-1 in the playoffs. Cousins is coming off a 2017 campaign in which he completed 64.3% of his passes for 4,093 yards, 27 touchdowns and 13 interceptions.
The NFC runner-up isn't the only team in the mix for Cousins' services. With roughly $73 million in cap space, the New York Jets are on the board at +300 odds to upgrade their quarterback situation. He would replace 38-year-old Josh McCown – who passed for 2,900 yards, 18 touchdowns and nine interceptions last season – behind center.
The loaded cap space coffers lead many to believe that if the Jets are successful in signing Cousins, they'll go out of their way to upgrade the pieces around him. So, Allen Robinson could be on Line 2. The Jets have not featured a 4,000-yard passer this century, while Cousins has eclipsed 4,000 yards in each of the past three seasons.
Denver has been linked to Case Keenum, but at +400 odds, remain a favorite to sign Cousins. Try as they might, Trevor Siemian and Paxton Lynch, selected by the Broncos in back-to-back drafts, aren't in John Elway's future plans as he works to rebuild a Super Bowl contender. Combined, Siemian and Lynch completed less than 60% of their passes, threw 14 touchdowns with 17 interceptions last season. Adding Cousins now could allow an aging Broncos' defense one more shot at a deep playoff run.
At +1500, the Arizona Cardinals are a longshot to ink Cousins. Like the Broncos, who have approximately $26 million in cap space, the Cardinals have even less at $22.5 million. So, they would need to cut some players and back-load any potential deal.
Carson Palmer retired and the dynamic duo of Drew Stanton and Blaine Gabbert isn't a long-term solution at quarterback. So, if the Cardinals want to maximize David Johnson's potential and convince Larry Fitzgerald it was the right decision to come back and play a 15th season, it makes sense for them to make a run at Cousins.