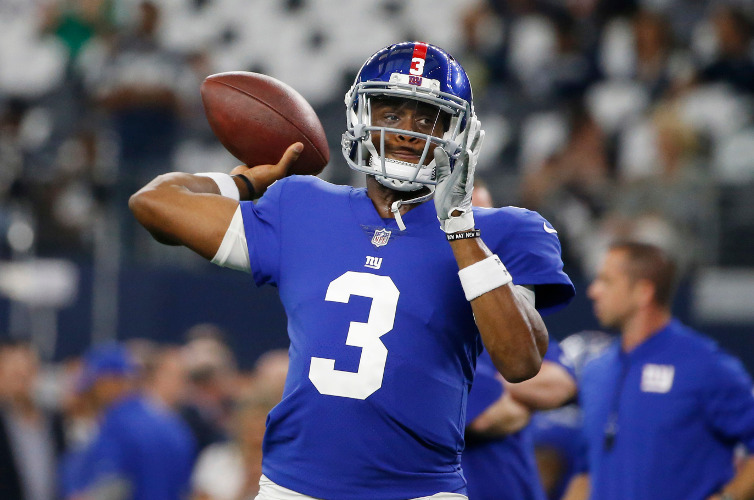 November 30, 2017
NFL News
NFL Betting Props: Geno Smith and Jimmy Garoppolo Odds
Two more quarterbacks get their first starts of the season this week and the oddsmakers have delivered props for both.
First up is the new starting quarterback for the New York Giants, Geno Smith. He's the first player not named Eli Manning to start for the Giants since 2004. Smith has some starting experience having previously started for the New York Jets before they realized he wasn't their QB of the future.
The props on Smith start with passing yards. The total has been set at 185.5 yards with the OVER and the UNDER both listed at -120. Bettors don't have much recent information on Smith to go on, as he's only attempted two passes all season. Both were incomplete. In his career he is averaging 175.4 passing yards per game, while the Giants this season are averaging 219.2 yards per game.
The other two Smith props are for touchdown passes and interceptions. For touchdowns the total has been set at a lowly 0.5 with the OVER at -175 and the UNDER at +135. Manning had 14 touchdown passes in 11 games this season, so expecting at least one from Smith doesn't seem like too much.
For interceptions Smith's prop total is set at 1 with the OVER favored at -150. In 34 career games Smith has thrown 36 interceptions and he'll be facing an Oakland Raiders defense that has only one interception all season.
Jimmy Garoppolo will make his first start for the San Francisco 49ers this week since coming over in a trade from the New England Patriots. Playing behind Tom Brady in New England, Garoppolo played sparingly over the last three seasons.
Looking at the Garoppolo props, his passing yards prop has a total of 225.5 yards with the OVER and UNDER both listed at -120. In New England Garoppolo appeared in 17 games, mostly in garbage time, passing for only 690 yards. So far this season the 49ers were averaging 244.8 yards per game with Brian Hoyer and C.J. Beathard.
Garoppolo's TD passes prop has a total of 1.5 with the UNDER favored at -150. His interceptions prop has a total of 0.5 with the OVER favored at -150. Garoppolo saw very limited action last week completing two passes which included a TD. He'll face the Chicago Bears, who have only four interceptions this season.
One other notable debut this week is Cleveland Browns receiver Josh Gordon. He returns from a lengthy suspension that has kept him from playing in the NFL since 2014.
There are two Gordon props available to bettors, focusing on receptions and receiving yards. For receptions the total is set at three with the OVER and the UNDER at -120. For receiving yards the total is 39.5 with the OVER and UNDER also at -120.
The chances of Gordon topping those numbers obviously depends on how many plays Gordon gets in. His main competition for targets are Kenny Britt and Corey Coleman, which doesn't seem like much.
Back in 2014 Gordon appeared in five games averaging 4.8 receptions and 60.6 yards per game. For comparison, a season earlier when he led the NFL in receiving, he averaged 6.2 receptions and 117.6 yards per game.