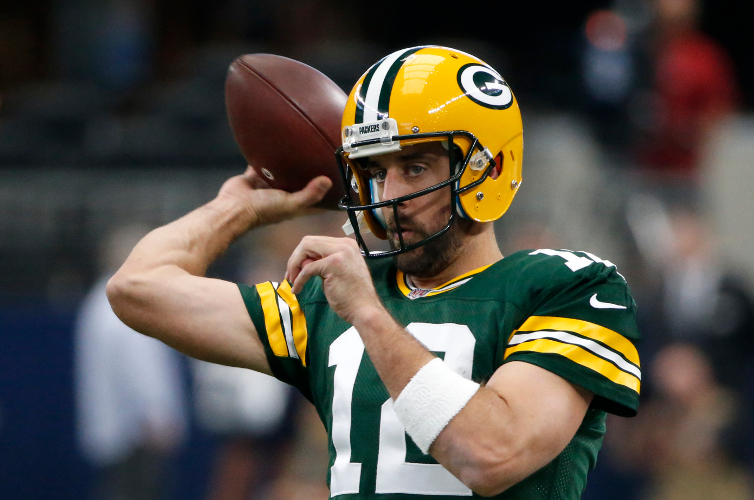 October 12, 2017
NFL News
NFL Betting Props: Aaron Rodgers Leads the NFL MVP Odds
With the NFL season entering Week 6 the contenders are starting to separate themselves from the pretenders in the Super Bowl hunt, and the true contenders are also starting to makes themselves known in the NFL MVP race.
For the oddsmakers putting together the NFL MVP futures there is a clear favorite right now. That would be Aaron Rodgers, who sits atop the odds list at +150. To understand how big of a favorite he is, Tom Brady is next in line at +500.
Rodgers already has two NFL MVP awards in his trophy case having won in 2011 and 2014. If you're truly looking for the most valuable player to their team in the league Rodgers would arguably lead the list. Rodgers practically is the Packers' offense and he has led the team to wins almost single-handedly numerous times this season and in his career.
Of course, you could also say the same things about Brady in New England. He also has a pair of MVP trophies at home from 2007 and 2010. The only thing that might keep Brady from adding a third is that the Patriots don't appear to be as dominant as they have been in the past. A lot of that has to do with the defense, which is beyond Brady's control, but if that leads to fewer wins for New England that will ultimately fall on Brady and hurt him in the MVP race.
The No. 3 slot on the NFL MVP odds belongs to someone no one would have predicted entering the season – that would be Kansas City Chiefs quarterback Alex Smith at +600. The veteran has never been in the MVP conversation before but he's playing some of the best football of his career in leading the undefeated Chiefs so far this season. Can Smith keep this up all season, and would it be enough to elevate him above Rodgers and Brady?
If case you forgot the reigning MVP is Atlanta Falcons QB Matt Ryan, who is a +1200 underdog to repeat. The Falcons haven't impressed as much as they did last season when they had the top scoring offense in the league. Ryan would likely need to match his performance from last season to get back into the MVP hunt, but that may not even be possible.
The top non-quarterback on the MVP odds right now is Kansas City rookie running back Kareem Hunt at +3300. The last non-QB to win was Adrian Peterson in 2012 and only three non-QBs have won MVP honors in the last 13 years. Hunt has slowed down a bit since his massive debut to the season which may have taken him out of the MVP running now that the QBs have taken over.