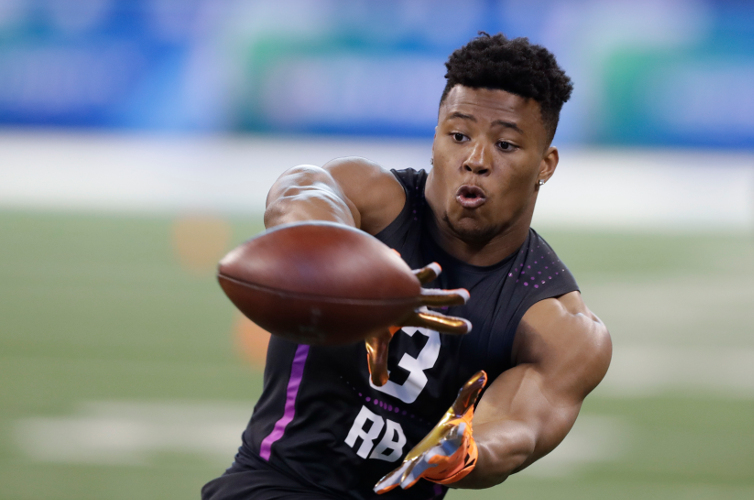 March 8, 2018
NFL News
NFL Betting Props: 2018 NFL Draft First Pick Odds
During last week's NFL combine, an NFL assistant coach told reporter Mike Freeman the he would punch himself in the groin (sic) many, many, many times to be able to draft Saquon Barkley. Widely projected as the No. 1 pick in several mock drafts it's no surprise he's the current favorite, at +170, to be selected in that spot. The Cleveland Browns own the No. 1 pick in the draft.
Barkley, who elected to skip his senior year, was on his way to a Heisman Trophy before some underwhelming performances in the middle of his junior season muddled the campaign. However, the 5-foot-11, 230-pound tailback reignited his draft stock after rushing 18 times for 137 yards with two touchdowns against Washington in the Fiesta Bowl. He followed that up with a 4.40 40-yard dash at the combine; second-fastest among running backs.
Call it the curse of Ki-Jana Carter or what have you, but it's been 23 years since a running back has been the top pick in an NFL Draft.
As the Browns head into their 20th season since their rebirth on the shores of Lake Erie, they remain a team without a franchise quarterback. Cleveland's continued hunt for an answer behind center is why USC's Sam Darnold is joined by three other quarterbacks as the most likely No. 1 pick behind Saquon Barkley.
Darnold, +240 odds, elected not to throw at the NFL combine, which drew some criticism. However, he does plan on throwing at his pro day when he'll have his own receivers. Although he passed for 4,143 yards during his sophomore season, Darnold regressed somewhat from his freshman campaign when he completed 67.2% of his passes for 3,086 yards, 31 touchdowns with only nine interceptions.
Josh Allen failed to complete better than 56% of his passes in two years as Wyoming's starting quarterback. Yet, the 6-foot-5, 233-pound frame is what many NFL scouts are looking for in a pocket passer. He's +400 to be selected No. 1 overall, but after his combine performance, probably possesses a slight edge on Darnold.
Undersized at 6-foot-1, 215 pounds, Baker Mayfield has drawn comparisons to Doug Flutie. The Heisman Trophy winner completed better than 70% of his passes for more than 4,600 yards and 43 touchdowns during his senior season. At +550 odds, concerns of batted passes at the line hover over Mayfield and should keep him outside the top three favorites at No. 1.
UCLA's Josh Rosen at +700 is the No. 1 pick longshot before the +1500 "any other player" field. A three-year starter for the Bruins, Rosen completed 62.6% of his passes last year as a junior, but durability concerns due to his slender build remain as he's dealt with injuries since high school.
Popular sentiment is that if the Browns pass on Barkley at No. 1, he won't be there when they pick again at No. 4. Whereas one of the top four quarterback prospects will remain on the board.