Betting Picks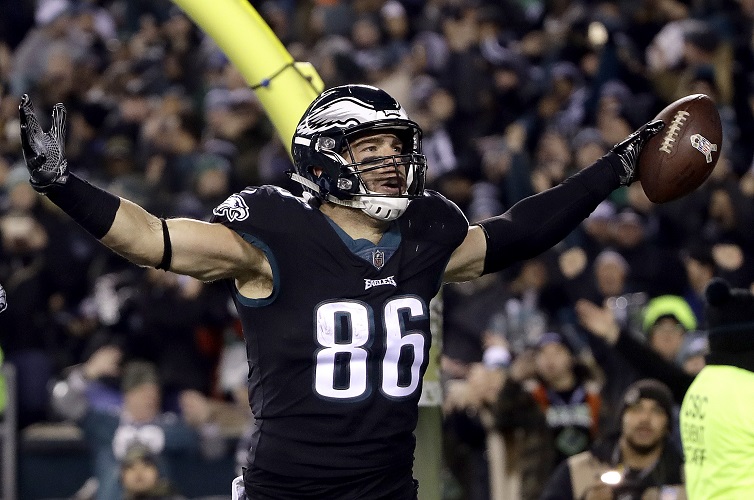 Redskins at Eagles: MNF NFL Week 13 Betting Preview and Pick
A few teams have managed to win a division title in the NFL with a losing record. Not saying that will happen this year in the mediocre NFC East, but it's a possibility as the two division leaders currently sit at just 6-5. That's good news for the two teams that close Week 13 on Monday as the Washington Redskins (6-5) visit the Philadelphia Eagles (5-6). Let us take a closer look at the Redskins vs Eagles odds, shall we?
No team has repeated in this division since the Eagles won their fourth straight NFC East title in 2004. Dallas appears to be in the catbird's season right now, especially considering the Redskins have lost starting QB Alex Smith for the season.
It's somewhat unusual that these division rivals will play for the first time this season during Week 13; they close the year in Maryland. Washington had won five straight in the series before being swept last year, both by double digits. The Redskins were done playing by Week 7 in 2017. The game in Philadelphia was a Monday nighter and the Eagles prevailed 34-24. Carson Wentz had four touchdown passes.
The Redskins vs Eagles odds have Philadelphia as 6.5-point favorites on the NFL gambling lines for this week and will be our against the spread pick. The total is 45.
Why Philadelphia will cover the Redskins vs Eagles odds
Why is Philadelphia expected to cover the Redskins vs Eagles odds? For one, the Eagles have a massive talent advantage at quarterback with Carson Wentz over veteran Redskins journeyman backup Colt McCoy. The Eagles haven't looked great the past few weeks. They did rally, however, from a 19-3 second-quarter hole in Week 12 against the Giants and escaped with a 25-22 win on Jake Elliott's 43-yard field goal with 22 seconds left. Not only did that win keep Philly in the division race, but also the wild-card chase.
Zach Ertz has been the NFL's best tight end this year and now has 84 catches for 895 yards and six scores. He's essentially a wide receiver. Undrafted rookie running back Josh Adams has really given the team a boost of late. This includes rushing for 84 yards and a touchdown on 22 carries against New York. Head coach Doug Pederson says Adams deserves more work.
Washington betting notes for Monday
Last year, the Eagles showed how important it was for a contender to have a good backup quarterback. Nick Foles led the team to its first Super Bowl title after Wentz went down with a torn ACL. The Redskins lost Smith to a gruesome broken leg in their Week 11 loss to Houston. If by some miracle you haven't seen it, don't YouTube it, but think Joe Theismann. In fact, Washington has been ravaged all over the field by injury.
McCoy got the start on Thanksgiving and had his moments with two touchdown passes. Nevertheless, during his team's 31-23 loss in Dallas, McCoy was also picked off three times. In other words, the Redskins simply don't have playmakers. Their top offensive player is 33-year-old running back Adrian Peterson, who only signed on the season's eve due to injuries at the position for Washington. He's starting to show his age, too, with four straight games of 68 yards or fewer rushing. It is not a coincidence the Skins are 1-3 in those four games.
Philadelphia vs. Washington line movement
The NFL odds for this game have seen the line drop a half-point at some books, while the total has largely been steady.
Philadelphia vs. Washington matchup trends
The Eagles have won nine of their past 11 games against NFC East foes.
The Redskins are 3-7 ATS on the NFL gambling odds in their past 10 against NFC East foes.
The Redskins are 7-20 ATS in their past 27 games on a Monday night.