Betting Picks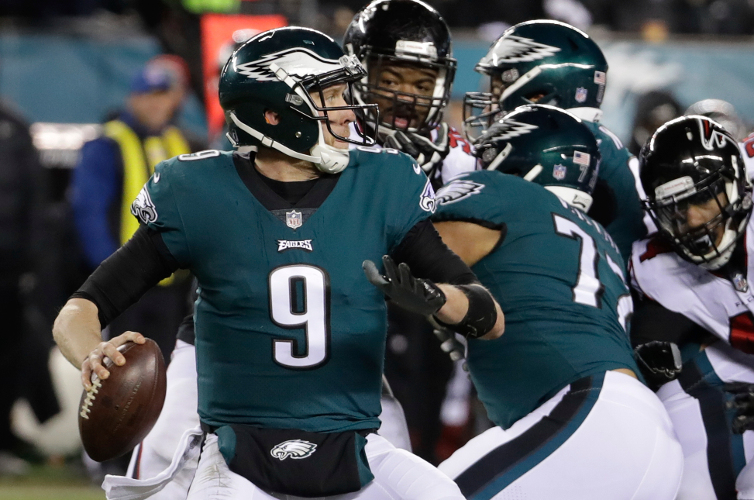 NFC Championship: Minnesota at Philadelphia NFL Betting Preview and Pick
Technically, this Sunday's NFC Championship Game is chalk because the top-seeded Philadelphia Eagles are hosting the No. 2 Minnesota Vikings. How the teams got there, though, was anything but chalk. The Eagles again are getting little respect from oddsmakers as they are 3.5-point underdogs.
In the Divisional Round, Philadelphia was a 3-point home underdog to Atlanta, the first time ever a No. 1 seed was not favored in its first playoff game. That was due to the various sportsbooks having very little faith in Eagles backup quarterback Nick Foles since NFL MVP candidate Carson Wentz suffered a season-ending injury in Week 14.
Foles proved his doubters wrong against the Falcons in completing 76.7 percent of his passes for 246 yards in a 15-10 victory. Philly advanced despite losing the turnover battle 2-0 but held the Falcons to 281 yards and made a goal-line stand in the final minute. The Eagles have not allowed a point in the final two minutes of a game all season.
The Eagles, who have never won a Super Bowl, are in the NFC title tilt for the seventh time and are 2-4. They lost their last trip following the 2008 season to Arizona. Philadelphia is 3-0 all-time in the postseason against Minnesota, which is 3-5 in this game but also has never won a Super Bowl.
The Vikings also are using their backup quarterback as they attempt to become the first team to play a Super Bowl in its home stadium. Minnesota beat New Orleans 29-24 in the Divisional Round in one of the most incredible finishes in NFL history as Case Keenum hit Stefon Diggs on a 61-yard catch and run touchdown as time expired – the first non-overtime walk-off playoff touchdown in league history.
Saints rookie defensive back Marcus Williams appeared to have a bead on tackling Diggs, and if Diggs had been brought down inbounds the game was over. But Williams whiffed, and now his name will live in infamy.
An interesting gambling note from the Vikings' win was they closed as 5.5-point favorites. NFL rules state that teams must at least line up for a point-after try following a touchdown even if the game has been won. Instead of the Vikings kicking the PAT, which would have led to a cover assuming a make, they took a knee. Perhaps some solace for Saints backers on the spread.
The fates of Foles and Keenum are intertwined entering this game. Foles was Philly's starting QB in 2013 and some of 2014 but was traded after that '14 season to the Rams for a second-round draft pick and Sam Bradford. Foles began 2015 as the Rams' starter but was eventually benched for Keenum. At No. 2 in the 2016 NFL Draft, the Eagles selected Wentz. That made Bradford expendable, and he was sent to the Vikings for a 2017 first-round pick on the eve of the '16 season after Minnesota starting QB Teddy Bridgewater suffered a serious knee injury.
Last March, the Vikings signed Keenum to back up Bradford and the Eagles brought back Foles to be the No. 2 behind Wentz. Bradford was hurt Week 1 and lost his job to Keenum. Got all that?
Minnesota is just the 15th team to be a road favorite in a conference championship game; the previous 14 were 8-6 SU. Philly won the most recent matchup in this series at home on Oct. 23, 2016, 21-10. It was Wentz vs. Bradford then and both struggled. Philadelphia has covered four of the past five at home in the series so take the points.