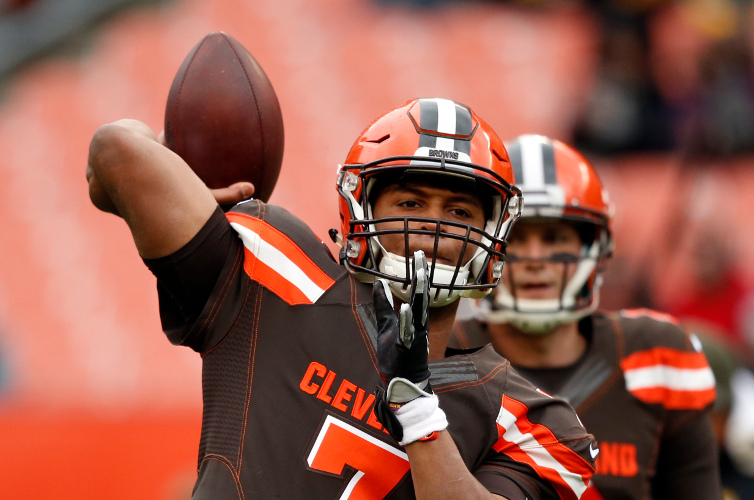 November 24, 2017
NFL News
NFL Betting Props: Cleveland Browns, Paxton Lynch on Board
The Cleveland Browns continue to deliver a level of ineptitude that is unmatched by the rest of the league. And bettors can get in on the fun by taking advantage of a new NFL prop wager asking "Will the Cleveland Browns finish the season 0-16?"
The Browns are the only team in the league with a zero in the win column. With 10 losses that gives them six more chances this year to avoid a winless season. The oddsmakers at least have their back listing Yes, Cleveland will go 0-16 at +400, and No, they won't go 0-16 at -700.
The six games left on the Browns' schedule include road games against the Cincinnati Bengals, Los Angeles Chargers, Chicago Bears and Pittsburgh Steelers, and home games against the Green Bay Packers and Baltimore Ravens. So, from those six teams who do they have the best chance to beat?
The easy answer is Green Bay or Chicago. Since losing Aaron Rodgers the Packers offense has been awful, including getting shut out last week by Baltimore. The Bears currently have the worst record from the six teams at 3-7, but at home they've been much better and may be more than Cleveland can handle.
Also worth considering are the Chargers and Steelers. Last season the Browns won only one game. Know who it was against? The Chargers. Cleveland narrowly lost to Pittsburgh earlier this season 21-18, but that's not the reason they might upset them later this season. Cleveland and Pittsburgh are set to face off in Week 17. If Pittsburgh has their playoff spot locked up they could send the second-stringers up against the Browns, giving Cleveland a much better chance of pulling off the upset.
Also showing up at the sportsbooks this week are new props on Denver Broncos quarterback Paxton Lynch. The revolving door at the QB spot in Denver has spun around to Lynch this week, and he'll get the start against the Oakland Raiders.
The Lynch props start with his number of completions. The total is set at 20.5 with the OVER at -110 and the UNDER at -130.In his two previous starts, both last season, Lynch completed 23 of 35 passes against the Atlanta Falcons and 12 of 24 passes against the Jacksonville Jaguars. Also worth noting, the Broncos are averaging 21.4 completions per game so far this season.
Next up are touchdown and interceptions props. For TDs, the total is set at 1.5 with the UNDER favored at -220. That's understandable considering in his two starts combined Lynch had only one touchdown, and this season the Broncos have 12 touchdown passes in 10 games.
The interceptions prop has a total of 0.5 with the OVER favored at -160. Lynch threw one interception against Atlanta, and coincidentally the Oakland defense he'll be facing this weekend is the only team in the league without an interception this season.
The last prop is for passing yards. The total is set at 225.5 with the UNDER favored at -130. Lynch went UNDER that total in both his previous starts with 223 yards against Atlanta, and 104 yards against Jacksonville.